Elementary Student Pick up Permit Holder & Protector - Visortag® Vertical. Easily Display & Swing Away Your Student pick-up/Parking Permit. Stored on Visor. Patented & Made in USA
Quick Overview
GOODBYE HANGING AND REMOVING: No more struggling to hang & remove the student pick up permit tag from rearview mirror every time you pick up your child from school or daycare. No need to flip and rotate visors, or fish for mirror post. It's right at your fingertips, simply swing it down to display, and up to fold away.
QUALITY, NOT QUANTITY: Visortag is made from hard and durable quality plastic to withstand toughest temperature including Arizona hottest sun. Unlike all cheap and flimsy vinyl hangers that are sold in packs, you only need to buy Visortag once and will last forever.
NO MORE DIGGING & SEARCHING: No more losing or misplacing the permit ever. Always under your passenger visor, at your fingertips.
TRIPLE-DIGIT TEMPERATURE RATED: Unlike soft Vinyl and PVC hangers that melt and curl and cracks in the sun, Visortag is 3-digit temperature rated plastic to withstand hottest states summer heat. It will protect and preserve the condition of your parking placard permit.
NO MORE DAMAGES: Visortag protects and preserves your tag and keeps it as good as new. No need to replace your damaged tag. Visortag is made from tough sturdy plastic material guaranteed to resist hot and cold conditions, and protect your placard from dents, bends, scratches and curling, and will not melt your tag and its texts as Vinyl and PVC holders do.
SUPER CONVENIENT: Your pick up permit placard is well protected, conveniently stored, swing it down to display & up to put away. Always at your fingertips.
EASY TO TRANSFER BETWEEN VEHICLES: It is easy to transfer to another vehicle if needed. Simply pull it off one visor and clip it onto another.

AESTHETICALLY APPEALING:

  Made for QUALITY not QUANTITY. Your car & placard deserve a reliable holder with a sleek look. Visortag is engineered with an appealing look, and round corners for safe touch.

VISORTAG IS THE SOLUTION:

Visortag is the solution for the many rearview mirrors that do not allow items to hang from them.
MADE IN USA: Unlike most soft hangers, Visortag is designed, patented, and proudly made in USA.
DIMENSIONS: Placard size: 9.30 inches long, 3.625 inches wide. Wider tag may be used since sides are open and can extend through. Permit tag is not included.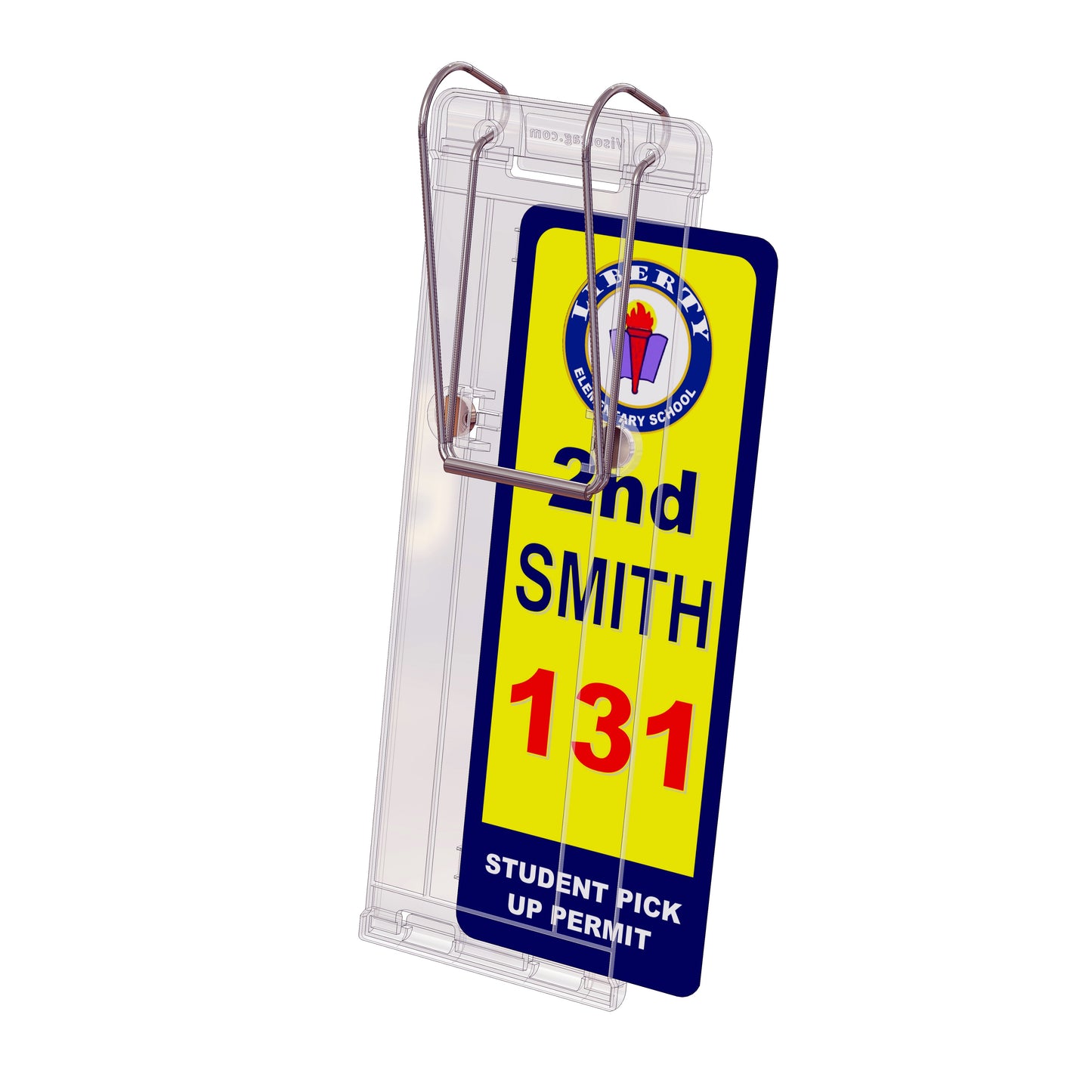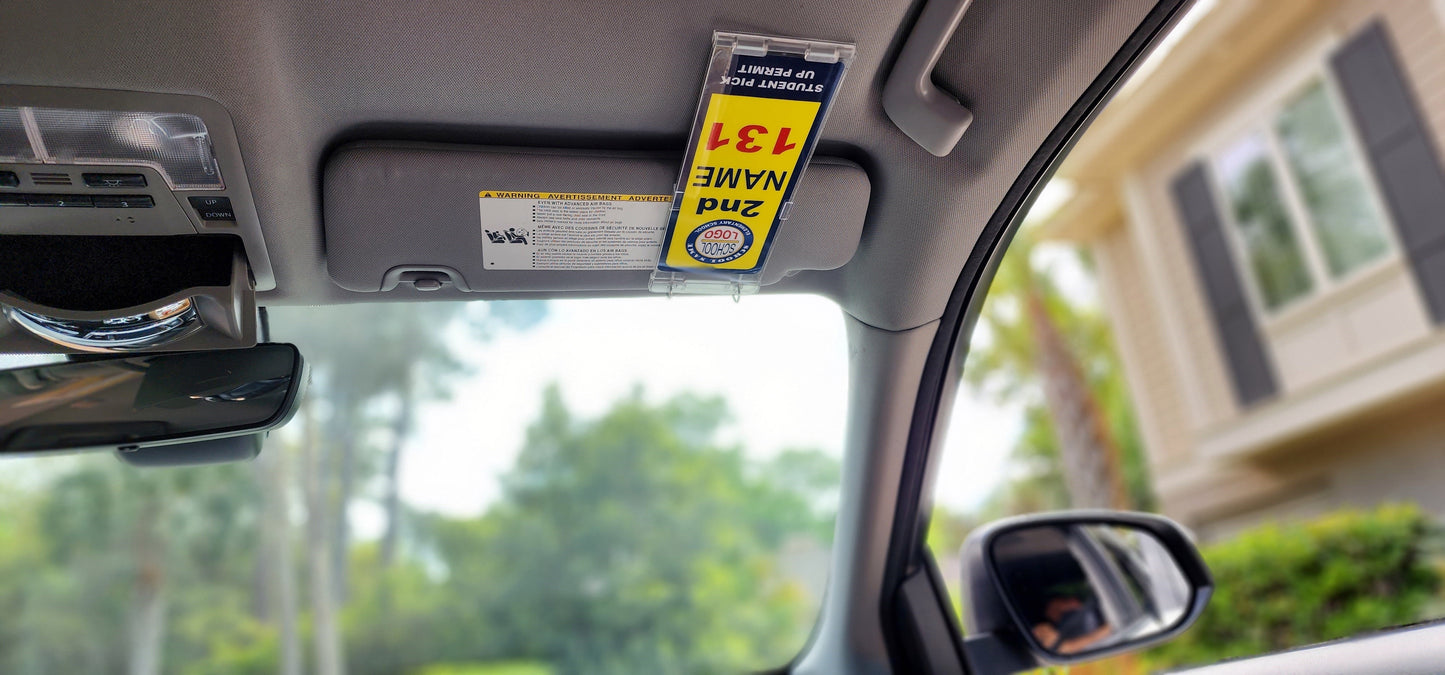 Avoid the frustration of parking and getting off your car to pick up your child from elementary school or daycare. VisorTag® VTS135 is designed to securely hold a card with student name and grade, or school issued ID so you can display it as you line up for pick up. Simply swing it down when you drive up to pick up your child so teacher or dispatcher can easily see it and bring your child to your car. Once your child in the car and before you drive away, simply swing the holder up and it will magnetically latch into a stored position and out of your view. No need to search for it again as it will always be on your passenger's visor.