NEW Visortag® Vertical by JL Safety® - The Best Handicap Parking Placard Holder on the Market. Easily Protect, Display & Swing Away your Parking Tag. Hard Plastic to Withstand 3-digit Hot Sun. Made in USA
Quick Overview
Goodbye Hanging and Removing: No more struggling to hang and remove the tag from the rearview mirror every time you park and drive. No more flipping and rotating visors or fumbling to find the mirror post. With VisorTag, it's right at your fingertips—simply swing it down to display and up to fold away. Enjoy a hassle-free and convenient experience every time you hit the road.
No More Digging & Searching for Permit: With Visortag, you will never lose or misplace your permit again. Always securely tucked under your passenger visor, easily accessible at your fingertips, and conveniently within reach whenever you need.
Triple-Digit Temperature Rated: Don't compromise in the heat. While soft Vinyl and PVC hangers melt, curl, fade, discolor and crack in the sun, VisorTag stands strong. Crafted from 3-digit temperature-rated plastic, it is built to withstand the scorching heat of the hottest states' summers, ensuring the protection and preservation of your parking placard permit.
No More BMV/DMV Visits: Tired of frequent trips to replace damaged tags? VisorTag is the solution. Crafted from tough, sturdy plastic material guaranteed to resist both hot and cold conditions, it preserves your tag and keeps it as good as new. Unlike Vinyl and PVC holders that melt your tag and its texts, VisorTag ensures your placard stays intact, maintaining its pristine condition without curling or melting, as seen in cheap vinyl sleeve hangers.
Super Convenient & Pain Free: Enjoy unparalleled convenience and hassle-free accessibility with VisorTag. Your handicap placard is not just well protected, but also conveniently stored, always within reach. Say goodbye to the pain associated with reaching for the rearview mirror post to display and remove your  handicap parking placard. With VisorTag, simply flip it down to display and up to store away with ease, ensuring a hassle-free and ergonomic experience every time.
Easy to Transfer Between Vehicles: Experience the effortless transfer of VisorTag to another vehicle if needed. Simply pull it off one visor and clip it onto another. Unlike hangers with hooks that may not fit on all mirror posts, VisorTag's clip is designed to fit on all visors, providing a universal compatibility and hassle-free solution for transferring between different vehicles.
Sleek and Stylish with a Touch of Elegance: VisorTag is engineered with a sleek and appealing design, adding a touch of sophistication to your car and placard. Choose a holder that seamlessly combines functionality with a touch of elegance. VisorTag sets itself apart from the cheap, flimsy alternatives, giving your car and placard the holder they truly deserve.
Made in USA by JL Safety: VisorTag is a testament to quality, designed and crafted by a recognized brand committed to innovation—JL Safety. Unlike generic unbranded overseas-made soft hangers sold in quantity under various names, VisorTag is proudly made in the USA by JL Safety for JL Safety, ensuring the highest standards of design and production. Do your part to support our USA economy and domestic manufacturing and choose VisorTag for a product that stands for quality and innovation.
Visortag is the Solution: For the many rearview mirrors that do not allow items to hang from them, VisorTag provides the perfect solution. Its innovative design ensures that you can conveniently display your parking placard without the limitations posed by traditional hanging methods. Choose VisorTag for a hassle-free solution to mirror restrictions.
Dimensions: Placard size: 9.30 inches long, 3.625 inches wide. Accommodates wider tags with open sides for easy extension. Handicap tag not included.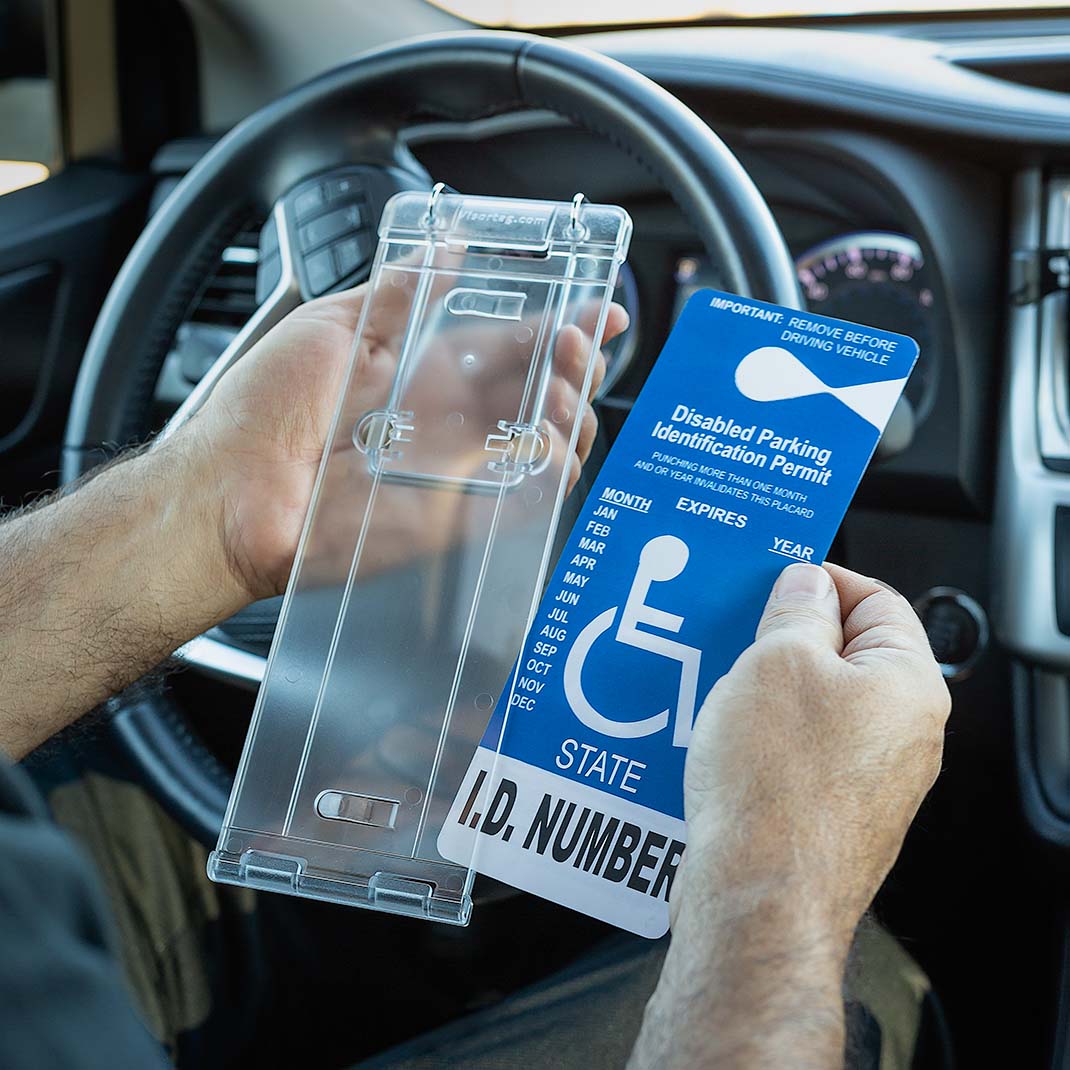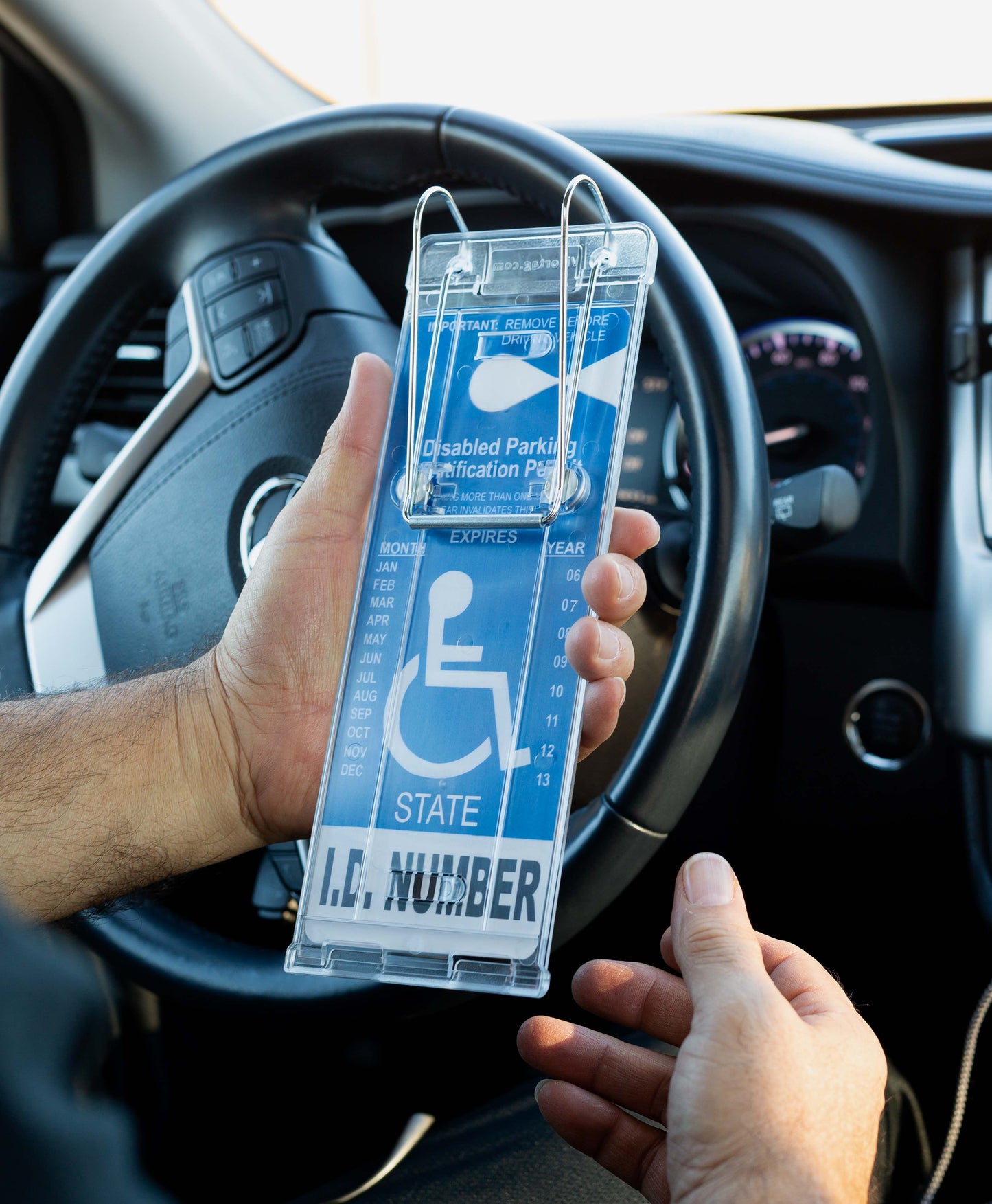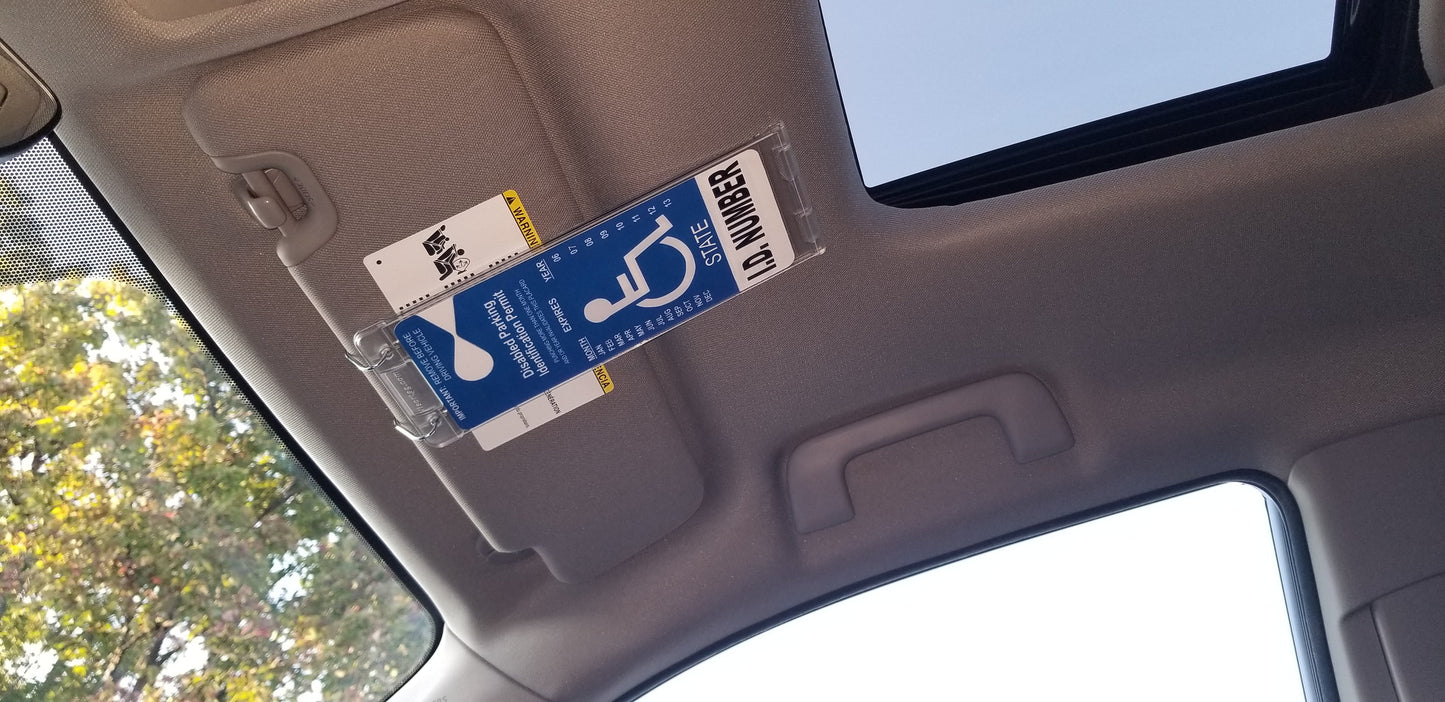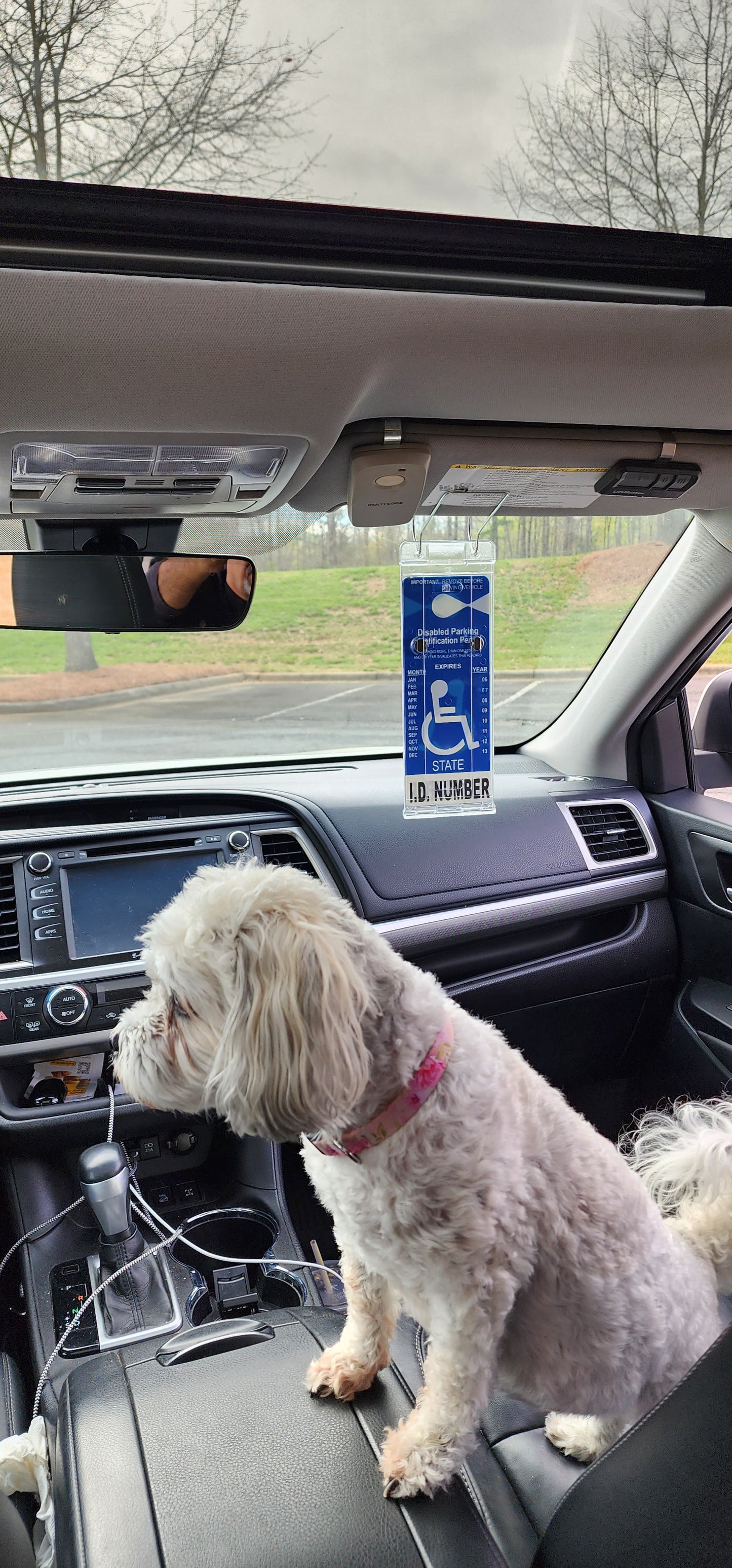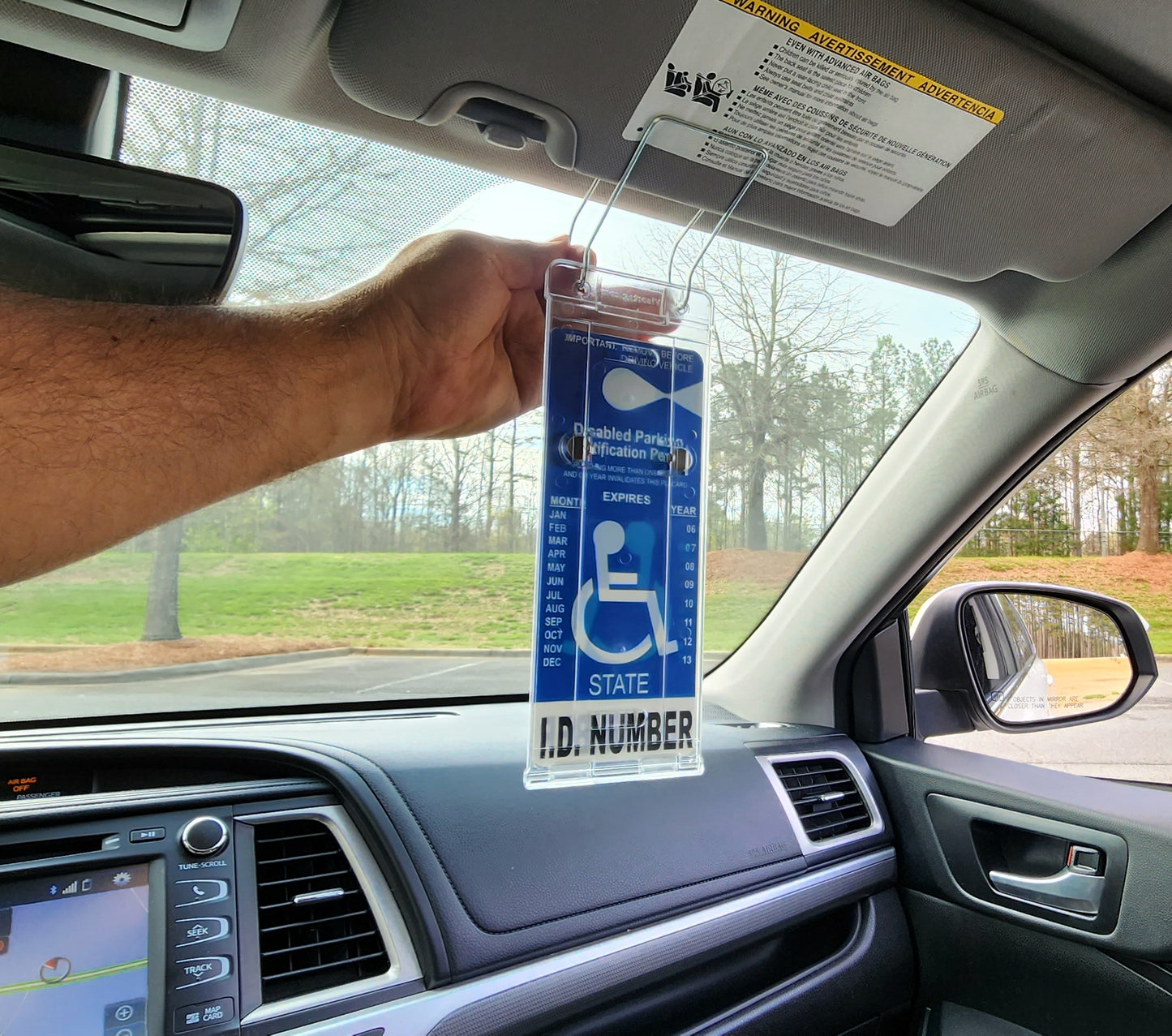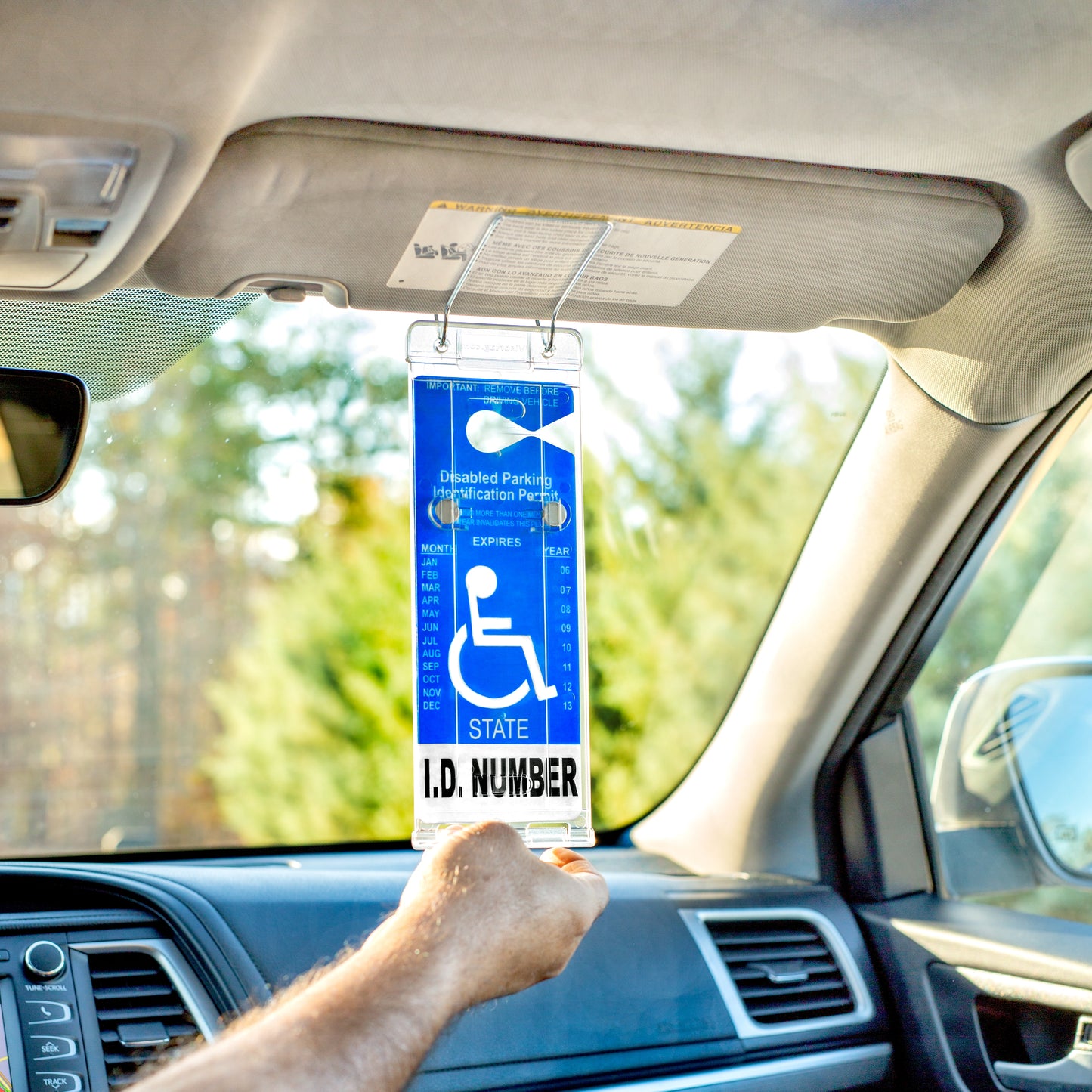 Introducing a new and improved design of the older version of Visortag Vertical VTD110. We listened to our customers and engineered this new design model VTD115 that overcomes any issues with the older model. The magnets are no longer glued in place, but inserted into molded cavities, and replaced with high heat rated rare earth magnets. The back side is molded from sturdy and triple-digit temperature resistant plastic with an aesthetically appealing look that your car deserves, with safe to touch round corners. The front is thick acrylic to give glass clarity reading of the parking placard when displayed. It is illegal in all states to drive with your handicap tag hanging from the rearview mirror, and most if not all tags say to " REMOVE BEFORE DRIVING VEHICLE", but so many disabled drivers do because it is not easy for disabled drivers at their condition to hang and remove and store the placard as required by law, so they get tired of hanging it on and taking it off the rearview mirror every time they park and drive. Visortag is the answer. It is the only product available with a patented design not only to protect and preserve your tag, but allowing you to easily display and put away your handicap parking placard at your fingertips. Simply insert your tag into the plastic holder, clip it to passenger visor, swing it down when park to display your parking tag, and flip it up before you drive. No more digging, misplacing and searching for your handicap tag, it's always at your fingertips! Visortag has super strong magnets that keeps the placard out of your sight while driving or parked in a non handicapped parking zone. Unlike Vinyl and PVC mirror hangers that offer no convenience, Visortag is rated for triple-digit temperature, and offers you the convenience and ease to display and fold away your placard, while preserving and protecting your tag from cracks, tears and creases. And because it's stored safely under your passenger visor, you flip it up and down with ease, and you'll never have to search for it again. You may also check its sister product Visortag Horizontal model VTDH135 that was also redesigned and displays the placard horizontally. Tag size: 9.30 inches long, 3.625 inches wide. Wider tag may be used since sides are open and can extend through. Designed, Patented & proudly Made in USA.